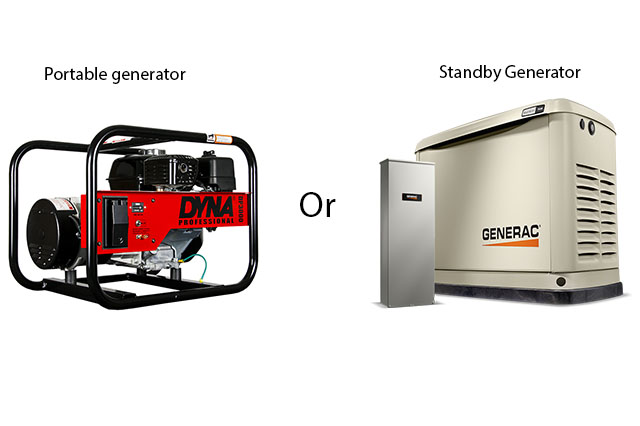 Hurricane season caught you by surprise this year, and ended up losing power for hours? It's the time to take measures to make sure that never happens again. Now that you've made up your mind to protect your home from power outages, there are a few decisions to make. Once you have all the information at hand, this should be a walk in the park!
Considerations
Before you purchase your generator, there are a few things to keep in mind:
What are your electric priorities during an emergency? Think of which appliances are vital in times of a crisis. During the South Florida summer, your AC should be the top priority, for example. Your fridge should remain on, to avoid food getting spoiled. Does your home have a well? Because, if so, that's another item that should go into these calculations, to get running water.
Check the wattage of each appliance you deem essential. Total the watts you'll need, depending on how many devices you need to have at your disposal. Create different lists considering priorities, as to have an umbrella of choices.
Make a budget. How much money can you spend on this? While we'd all love to have the most powerful generator in existence, it's not always within our means.
Take space into account. Even if you're willing to spend a few extra bucks on the most potent generator out there, you might not necessarily have enough outside space to keep a generator. Remember these should always be at least 20 feet away from your home, especially windows and doors.
So, what are my options?
Now that you're a little more aware of your specific needs, it's time to delve into generators. There are two basic types, depending on how much power you'll need: portable or stationary. Here's a rundown of each of them!
Portable generator
The most affordable option, this is also the least powerful type of generator. It's ideal when you only need to have a few appliances running during a time of crisis. This type of generator is relatively small, and you can easily keep it in the garage when it's not in use. However, keep in mind this generator runs on gasoline, so you shouldn't ever run it inside your home or in an enclosed space, as it can lead to carbon monoxide poisoning.
Chances are you have enough space for a portable generator, so that's a big plus if you don't have a huge backyard. You can wheel it closer to where your appliances are during your time of need.
The portable generator should be outside, connected through extension cords to those smaller appliances you want to keep running. These can include your fridge, heater, hot water, TVs, and computers.
In all, portable generators are wonderful when you only need to use a few appliances. They're an excellent choice who stay aware of energy consumption. Depending on size, they can generate between 2,500 and 4,500 watts, which would allow you to endure a blackout with relative comfort.
If choosing a portable, remember that connecting it directly to your house wiring is a significant safety risk for everyone in your home, as well as your neighbors. It's also essential to remember that you should only add fuel to it when it's off, and cooled off.
Permanent standby generator
The largest type of generator, and as its name suggests, a stable structure. Much more expensive than their portable counterparts, these are for people who can't afford to handpick which appliances to use. By having one of these installed outside your home, you'll continue having complete normalcy even during a state-wide blackout.
If a tropical storm or any other type of foul weather causes a blackout, you don't even need to set up this generator. Not only is it already installed, but it's also always on standby and will turn on automatically. When your professional electrician sets it up, they'll add a transfer switch that will monitor incoming utility voltage.
If you have the means and outdoor space, there's no better way to be prepared for electrical mishaps. It's worth noting that the prices of permanent standby generators have considerably gone down in the past few years, and they're certainly a great way to stop worrying about unfavorable conditions.
Whatever your choice is, remember you can find your new generator through EmPower Generators. We've been servicing South Florida since 1999, providing top service and helping our community better understand alternative energy solutions. Contact us today to clear any doubts!
https://empowergenerators.com/wp-content/uploads/2018/10/3KW-Winco-Portable-Generator-or-9kW-Generac-Air-Cooled-Standby-Generator.jpg
426
640
MyWorks
/wp-content/uploads/2019/01/empower-generators-logo.png
MyWorks
2018-10-11 09:30:50
2019-03-01 10:39:54
Portable or Standby Emergency Generators: Which One Fits You Best?