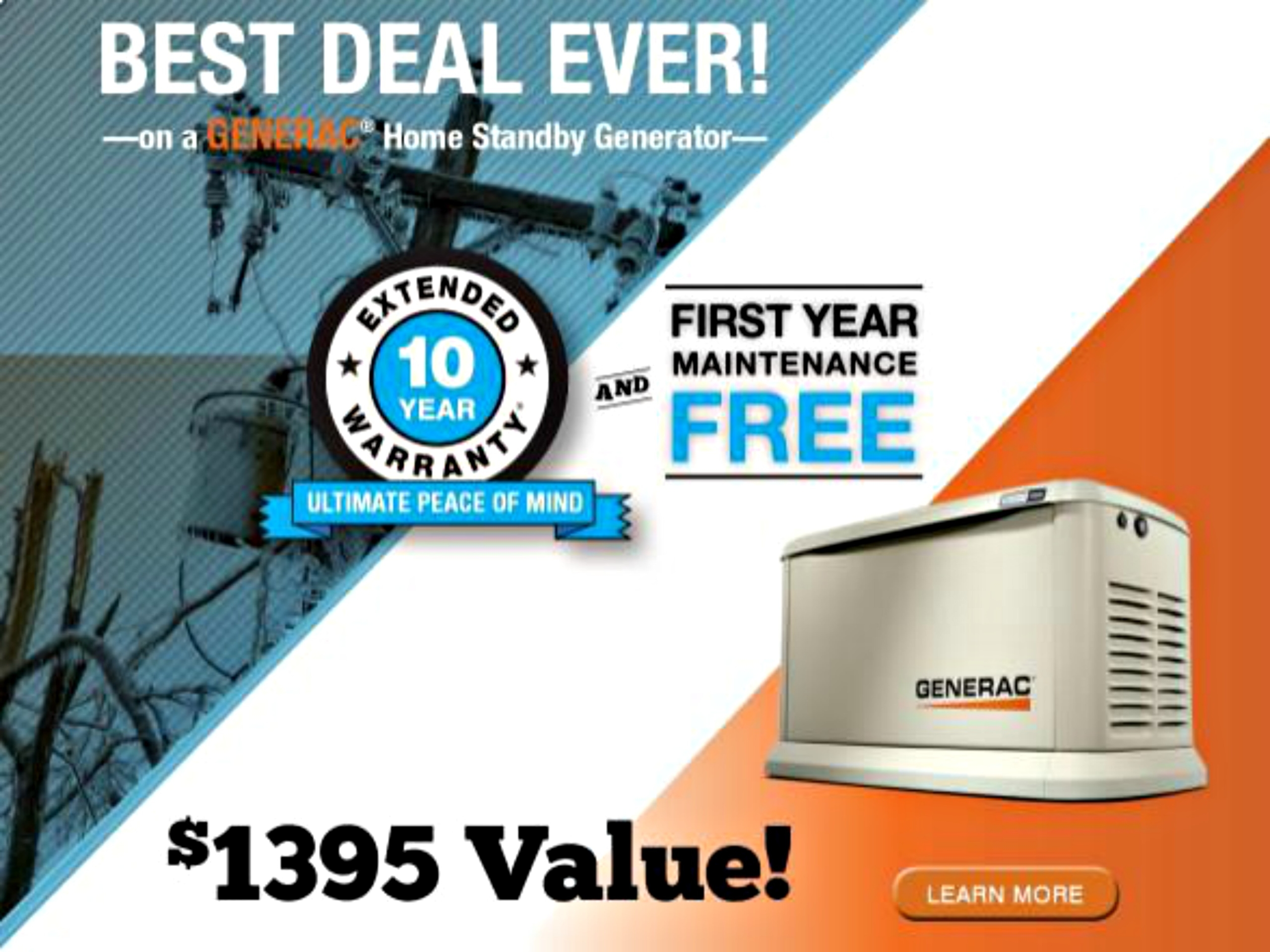 Did you know that an approximate 70% of all homeowners choose Generac as their choice of manufacturer for home standby generators? When you need a high quality, dependable generator to restore and maintain electricity to your home during a power outage, you can trust in the efficacy of Generac home generators! Not only are these home generators created in excellence, but a special deal is still going on for an extended warranty with free maintenance for a year on all Generac home standby generators! But you can't afford to wait on this incredible deal because the special offer is only valid until September 1! Get your Generac home generator at EmPower Generators today!
Generac Home Standby Generators
At EmPower Generators, the most efficient products are distributed and the best services are provided because you deserve high quality, working equipment to keep your residential or commercial location up and running. By representing the best of all US-owned and operated manufacturing companies, like Generac, EmPower Generators can be confident in the excellence of all products. Generac is one manufacturer that is sure to satisfy customers with any product, especially now with the 10-year extended warranty deal on home generators and the first year of maintenance offered for free!
What Is the Extended Warranty Deal for A Home Standby Generator?
If you purchase and sign the agreement for a Generac home standby generator by September 1, then you are eligible for the 10-year extended warranty deal on the product. In addition to this, there is also a voucher for FREE maintenance during the entire first year. At an unbelievable value of $1,395, this special offer includes checking for enclosure louvers, fuel or oil leaks, engine oil levels, water intrusion, battery condition, air filters, and more.
What's the Catch?
There's no catch! This special deal for an extended 10-year warranty on all Generac home standby generators and free maintenance for the first year requires for you to have purchased as well as signed the agreement for the product by September 1. The generators do have to be installed and activated along with the evidence of the purchase submitted by October 16, 2017. The free maintenance for a year is valid until October 31, 2018.
What Are the Benefits of A Generac Generator?
There is an extensive list of benefits for the Generac home generators. The most obvious advantage of Generac home standby generators is that they provide an automatic power support when needed. This can be critical for businesses and residences. When it comes to operating a business, anybody can see why power is such a vital resource. Whether power is necessary for operating tools at a construction site, cooking in the kitchen for a restaurant, providing electricity for lights in an office, keeping computers up and running at an IT or internet company, or providing phone lines for telemarketers, power is essential to keep a business successful. Along with this, a Generac home generator can also be a residential necessity. Power is necessary to provide light, especially at night! Also, it is important to have on hand for keeping food perishable and refrigerated. A Generac home standby generator can provide power so that your family is not inconvenienced during a power outage. This means your food won't spoil, you will have entertainment, and you will be able to see since the lights will be on!
Don't miss out on this great opportunity for getting your high quality Generac home standby generator with a 10-year extended warranty and free maintenance for one year! This deal is incredible and simply cannot be beat. EmPower Generators wants you to have the best offers and services, so act now before the offer ends by September 1!
https://empowergenerators.com/wp-content/uploads/2017/08/GeneracExtendedWarranty-scaled.jpg
1920
2560
MyWorks
/wp-content/uploads/2019/01/empower-generators-logo.png
MyWorks
2017-08-30 15:20:34
2019-03-01 10:40:34
Act Now! Offer Ending for Extended Warranty on Generac Home Generators