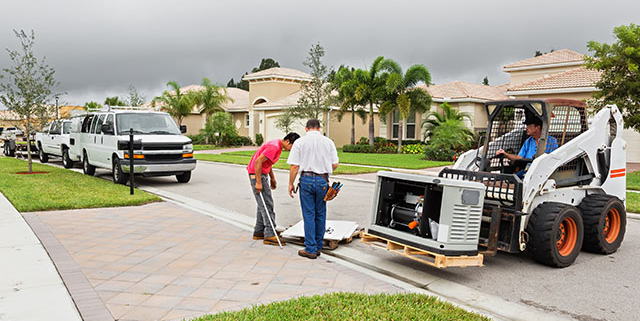 The installation of your generator might play a key role in helping you decide which type to get. Not only do you want to know how long it will take but you also want to know its costs to set it up and how this adds to the purchase price.
The costs of installing a generator in your home can vary depending on a lot of factors such as the size of your house (it will vary the capacity of the machine), type of generator and also the natural gas availability.
When you need backup power, a generator is your best option, essential for providing the electricity you need after a power cut caused by bad weather, natural disasters, or supplier issues. But you don't want climbing installation costs. For that reason, we're going to look at what variables affect that cost and what the installation might cost covers.
The Difference Between Kinds of Generators
Not all generators are the same, so it only makes sense that the installation costs of generators can vary widely, as well. Prices can depend on how the generator is used and the square footage, for instance. But different factors can play into the price:
Fuel source: The type of generator you install will be the most significant contributor to installation costs. Gasoline and liquid propane generators tend to the be the cheapest to install while diesel is the most expensive. If you have access to natural gas, that will significantly reduce cost compared to having a propane tank. However, it's worth considering this factor against the other pros and cons of the fuel types. For instance, while costly to install, diesel costs less to run over time because of greater fuel efficiency.
Portable or standby: Portable generators tend to be cheaper to buy but they require more work to operate and expect you to be present to switch on. Standby generators are more expensive and take longer to install but can automatically provide backup power for the whole home.
How much power you need: This isn't an easy question to answer, so you may need the services of a generator provider to find out. If your property uses more kW to run all appliances, then you may need a bigger generator which impacts installation costs. A 22kW generator is enough to meet the needs of the average household, but it's not guaranteed.
Where it's installed: If the area where the generator needs to be installed is harder to reach, it might require specific tools to install, which can increase the costs. In some cases, you will even need a crane to reach high places.
Regulations: you will need permits and a certificate of elevation. Every generator must be regulated and guarantee your security.
Others: Custom pad, electrical and gas works. And if there is not natural gas available for hookup, then a propane tank should be buried. You can contact TECO and Florida City Gas and see if you are on the natural gas grid.
For all the reasons above, you should consider not just the initial buying price of the generator, but how you can expect it to impact the costs of installation as well. A professional supplier should be able to offer a quote that helps you get an idea of installation costs on top of the rest.
Breaking Down The Costs Of Generator Installation
When you're installing your generator, it's a good idea to know what you're paying for. You should aim to work with providers that offer a cost breakdown, though many do not. Here are some of the most common contributors to those installation costs:
·         Investigating your home energy needs to find out how much power you need your generator to produce.
·         Finding the equipment and requirements to install the generator, as outlined by the manufacturer.
·         Creating a concrete pad to install the generator on.
·         Site preparation around your power panel electrical meter.
·         Installing the generator's fuel tank.
·         Installing a subpanel to allow the generator to connect to your electrical panel.
·         Electrical wiring and lighting installation to ensure your generator meets regulations.
While costs may be added depending on the type of generator you install, the process itself is lengthy and multi-faceted, well beyond what most DIYers are capable of doing. This is a big part of the reason that generator installation costs as much as it does.
How Much Will It Cost You To Install Your Generator?
If you want to get an estimate of how much it costs to install a generator, including finding out what your power supply needs, then get in touch with EmPower Generators today. We can help you find the right generator for your needs and break down the costs, so you know what you're getting. EmPower is a turn-key installer and provides a full installation from start to finish.
https://empowergenerators.com/wp-content/uploads/2018/12/Installing-an-whole-house-emergency-generator-.jpg
426
640
MyWorks
/wp-content/uploads/2019/01/empower-generators-logo.png
MyWorks
2018-12-18 09:04:53
2019-03-01 10:39:54
Working Out The Cost Of Generator Installation