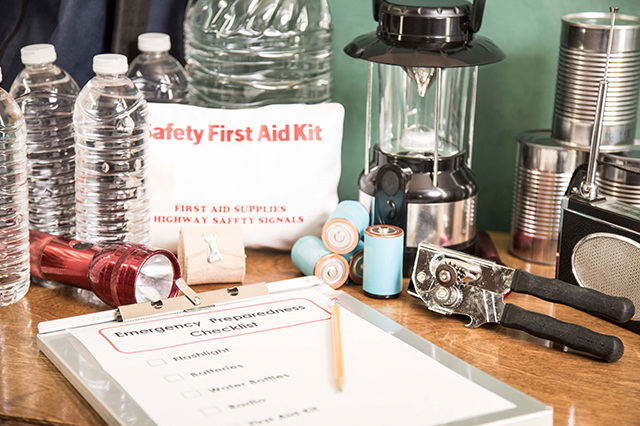 In times of emergency, it can be a little hard to think straight. You're concerned about your well-being, plus that of your loved ones. Some people think clearer during times of emergency, but not everyone – and why leave it to chance? Being prepared for a hurricane can be the difference between life and death. That's why we've concocted this basic hurricane checklist for times like these!
There are a few vital things you need to have at your disposal during an emergency. You might end up trapped inside the house for a few days, and you'll need your energy. Things could run smoothly, but they could also get tough quickly.
Have everything you need around, with contingency plans for different scenarios!
Set up an emergency kit
There are quite a few things you'll need in a time of emergency. The first thing you should have at home, particularly as hurricane season approaches, is a kit full of basics. It should include:
A First-Aid kit.

Water, about a gallon per inhabitant of the house. Don't forget to keep family pets in mind!

Non-perishable food. Have enough to feed all inhabitants of the house (including cats, dogs, etc.) for at least 72 hours. Also, include a manual can opener.

A battery-powered or hand crank radio to learn about what's happening outside.

A NOAA weather radio.

A flashlight.

Extra batteries for all appliances that need them.

A whistle, as you might need to call out for help.

A cell phone and its portable charger. It can be a cheap burner phone that you always have in your kit and charge periodically.

Wrench and tools in case you need to turn off utilities.

Include items for personal sanitation, such as moist towelettes, garbage bags, and plastic ties.

Gas. You might need to evacuate in a hurry or power your generator for a few days. In any case, it's important to have fuel stored up in a safe location. Remember gasoline can only be stored for three months before it becomes useless, so it's important to check if it's usable when hurricane season begins.
Don't get lost
In times of emergency, everyone is worried about everyone else – particularly those out of town. While Facebook might help you mark you're all right when a hurricane hits your city, it's good to have extra ways to signaling outside.
There are many apps you can download for just this purpose, but we recommend the Red Cross one. It has a section on Hurricanes, and it's available on Google Play and the Apple App Store.
Know your community's evacuation plan
Cities and neighborhoods always have an evacuation plan, and it's important to know what that is for times of need. Know the official route to leave your home if it gets too dangerous around your area. Even better, have a second alternative in case the roads get challenging to navigate due to floodings or traffic.
Locate shelters around you
Be aware of the nearest shelter, and have a backup one nearby as well in case there's overcrowding. If you and your family have pets, make sure to locate those places that accept them.
Set up your attic properly
In case of a severe flood, you might have to move up into the attic. When it's very extreme, you and your family might even have to exit through the ceiling. It's essential to have an ax in the attic in case that happens.
Prep your home thoroughly
When your home is your shelter, you need to make it as safe as humanly possible. Use the tools available at your nearest hardware store, including hurricane shutters or sturdy pieces of wood. You can board up windows and doors with ⅝ inch plywood, and also reinforce garage doors.
If you have loose items outside, be sure to store them in the house before the hurricane hits. You won't want your children's plastic home floating up in the air in the middle of the hurricane. Something like this could end up falling on a car (or even a person) and cause a world of damage.
Before the hurricane hits, also be sure to clear your gutters of debris.
Backup power is a must
Having some electricity, even when using a relatively small and portable generator, will make all the difference. It's essential to have a backup generator of some sort for times of crisis, mainly if you live in a hurricane-prone area.
If you already have a running generator, whether portable or standby, be sure to complete maintenance as hurricane season approaches. This way, you can ensure it's working correctly and won't present any issues when the chips are down. And always remember to have fuel around for it!
EmPower Generators has provided South Florida owners with alternate power solutions for times of emergency since 1999. With almost two decades of expertise, we're happy to help you set up the right machine or your home. Contact us today to find out more about options and prices!
https://empowergenerators.com/wp-content/uploads/2018/11/Ultimate-Hurricane-Checklist.jpg
426
640
MyWorks
/wp-content/uploads/2019/01/empower-generators-logo.png
MyWorks
2018-11-07 09:42:35
2019-03-01 10:39:54
The Ultimate Hurricane Checklist to Keep Your Family Safe During Disaster